Formed in 1980 by two cousins Mr Maurie Mouyat & Joe Maite who met up with Mr Nick Kidson, while discussing corvettes they decided to get together & go for a cruise, not long after they meet other corvette owners with the same passion & decided to form a social club calling it NSW corvettes unlimited. In 1982 they agreed to form a constitution & named it New South Wales Corvettes unlimited car club.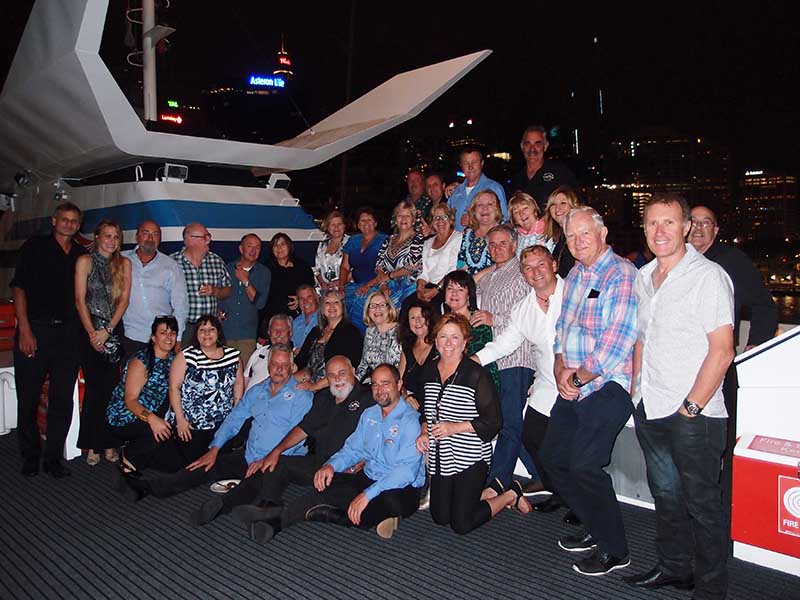 At that time they had about 50 members the first committee comprised of Mr Les Teefy, Mr Jim Roley, Mr Steve Busittil, Brian & Betty Densley & Mr Owen Yates. Mr Les Teefy was the first president, and the printing of the first magazine was done at Brian & Betty Densley house, then photocopied & posted. Our logo was designed by Mr Maurie Mouyat in 1982 which we still use today.

In 1983 a member by the name of Mr Frank Rejtano became the next president hosting our first convention in NSW in 1989 at El Cabalo Blanco near Liverpool. our second hosting of a convention was in 1992 being held at the fire museum at Penrith.

Then came our longest serving president Mr Steve Browne who took over the running of the club in 1992 with about 54 members. The first run that he organized was a southern comfort promotion to give away a 1960 corvette he tells me he thought he would get about 6 cars turning up. To his surprise 36 turned up on a Wednesday morning at 7.30am, over steve's reign as president from 1992 to 2000 he steered our club to about 250 members with social outings once a month increasing the awarenes of the corvette in NSW our club owes so much to Steve for the dedication & commitment he has shown to corvettes in Australia . Steve decided to stand down as president after the 2000 convention in Sydney which had over 150 corvettes entered what a great way to finish 8 years as president.

Then our next president was Mr Peter Ellsmore who started as the editor for over 5 years producing a very informative magazine & has been followed on by Mr Bob Boes & then Mr John Mafrici.

Our next president was Mr Garry McLaughlin who had been a member for 5 years. During the next two years the committee had grown to having 18 members.
Gary continued as president until 2006, when his former vice president, Andrew Lewandowski was elected president. Andrew served in this position for two years, and was followed by long-term member Bob Lynn. Bob held this position for two years until 2010, when he stood down to chair the upcoming 2012 convention committee. During Bob's term the Club celebrated its 30th birthday with a luncheon which was well attended by members and their 'Vettes, including life members Maurie Mouyat, Steve Busutill, Frank Retjano and Steve Brown.
Gary Nelson was elected president in 2010 and continued to serve the Club in this position until 2015, assisted by a committed and actively involved committee of nine. Gary stepped down in 2015 but remained on the committee to concentrate efforts on the 2017 Corvette Nationals which our Club will host.

Membership numbers have continued to steadily increase in recent years, and now stand at around 260.
Member number 24, Jeff Wilson, who joined the Club in February 1993, stepped up from vice president to president at the 2015 AGM. One of Jeff's first duties was to oversee the Club's 35th birthday, which members celebrated on a fantastic Sydney Harbour cruise.
We hope to be adding further highlights of our clubs history & photos so if you have anything that you would like to see featured please send it to a member of the executive committee.